Posters play a vital role in serving as safety and health reminders in the workplace.  There is a  huge variety of posters, and it's easy to find the ones that fit your special type of operation.  Some posters are mandated, such as Federal and State OSHA health and safety posters.  Information on employer obligations and employee rights pertaining to health and safety should also be displayed.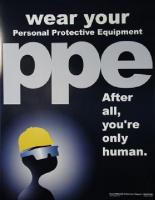 Tips for successful posters:
Choose safety posters that employees will notice.  Often employees will overlook standard safety posters.
Keep information updated regularly with current data and ideas on how to keep the workplace safe.
Switch posters around in different locations in order for more employees to view them.
Health information is important.  For those who do strenuous types of work, choose posters that help avoid physical discomfort.  For those who work in offices with little physical activity, posters with information on healthy eating, posture, and exercise can be helpful.
Select posters that are specific to your particular type of industry.
Consider purchasing frames to make the posters look more professional and last longer.