Employers must take care by conducting extensive hazard assessments to ensure that potential injury to arm and hands of workers is avoided.  The employer should determine which type of protection is needed for the utmost security, by selecting the proper glove, finger guards, arm coverings, or elbow-length glove that is appropriate for the task at hand.
There are many numerous selections of cotton work gloves, leather gloves and hand protection.  We encourage you to consider what hazards exist in your work surroundings and then make your choice. (There's even gloves with a light on them for working under the hood of a car!)  Whether you are an employer, employee, or performing jobs at home, it's important to make the right choices.
Factors that should influence your Personal Protective Equipment decision in choosing gloves:
Types of chemicals you are exposed to.  Also the nature of contact (splash, total immersion.)
Duration of contact.  Area of body that requires protection.
Grip.  (Dry, Wet, or Oily).
Abrasion/Resistance Required.
Gloves generally fall into four groups: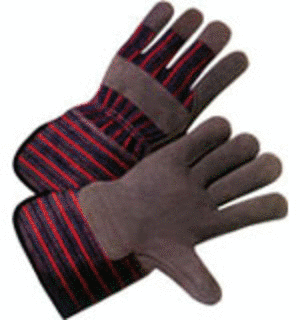 Leather, Canvas or Metal Mesh
Chemical and Liquid-resistant
We hope by handing you this information, you will be able to choose the most fitting gloves.
Source: OSHA