GUEST BLOG
Blog4Safety is always happy to receive articles from across the ocean; we know you will enjoy this one written by Matt Browne.
Matt is a copywriter with a journalism background, who forms part of  RightClub.co.uk's team of experts who always come up with all manner of wonderful, weird, and downright crazy ideas.  We know you will enjoy Matt's take on safety on the golf course.  Read on!  
Golf is often described as one of the most relaxing sports to play, but there are perils lurking on every course and plenty of examples of horror stories of when things go wrong.  One story that recently came to light in Yorkshire, England featured a boy aged 11 who got stuck in the mud on a course and required assistance from the emergency services. Fortunately, the young lad emerged unscathed from his ordeal.
Here are a few other possible dangers to be mindful of while out and about playing golf:
Lightning: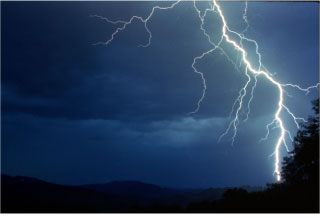 Golf courses can be dangerous places if the weather suddenly takes a turn for the worse and it starts to thunder and lightning. Golfers are advised to seek shelter as quickly as possible if a thunderstorm does start and preferably get off the course altogether, steer clear of any lone trees, remove shoes with metal spikes on and leave their golf clubs well alone. Check the weather forecast before setting off on your UK golf breaks and act accordingly.
Golf carts: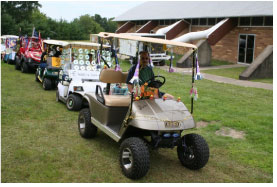 No doubt many of you will have seen programmes such as Jackass when stunts in golf carts have been performed.  While this is an extreme example of the hazards associated with driving golf carts, it serves as a warning to be responsible when travelling around by cart. Drive at a sensible speed at all times, be mindful of other golfers in carts and resist the urge of some off-track fun as it could end in tears.
Sun exposure :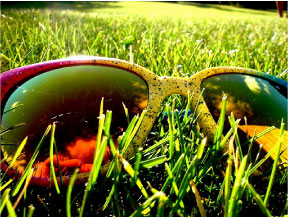 Being open to the elements for hours at a time brings with it certain risks and exposure to the sun is a problem that golfers need to be aware of.  Spending lengthy periods in the sun without taking adequate measures to protect a golfer's skin or eyes is irresponsible and dangerous. Carry a hat in your golf bag and have some sunblock on hand just to be on the safe side.  
Plant life and local wildlife:
There are certain places in the world where the local wildlife can pose a threat to the personal safety of golfers.
Read this story
, which tells what happened when an elderly golfer came into contact with an alligator in South Carolina a few years ago. There may also be a few nasty surprises waiting for golfers in the rough in terms of the plant life, while the uneven ground could cause a nasty slip, trip or fall.
A stray ball or club: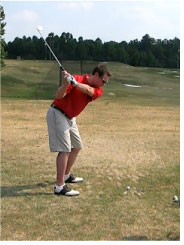 The importance of being alert at all times during a round of golf should never be underestimated. A lapse of concentration can cost you dear if you end up being struck by a stray ball or even a club, depending on how close you're standing to your fellow golfers.
Our thanks again to Matt Browne.  A personal thank you to Doug Turner, Texas America Safety Company and Blog4Safety, for his expertise and assistance.