Cleaning is a necessary task that you are often times forced to do around your home and your office. Thanks to cleaning, you will have a refreshed environment and living conditions that are more than suitable for resting and relaxing. There are a lot of products and tools that can make your cleaning more effective and fast, but what you have to keep in mind is that home cleaning and office cleaning should be carefully executed.
If you want to be completely safe during your cleaning service, you need to consider some protection clothing. There is a lot of risk related to using the various cleaning solutions, some of which are far from safe. If you pay attention to labels, you will often notice the description saying 'poison', 'toxic' and 'danger'. That alone should be enough to warn you of the threats and make you stay alert during your cleaning service. Acquire the following gear if you want to be safe:
– Gloves – even simple latex gloves can protect your skin from the chemicals and dangerous ingredients of various solutions you use in your everyday cleaning. If you have any skin problem, such as irritation, rash, itch and burn you will do well to avoid direct contact with the solutions you use in office and home cleaning. Gloves will not hinder your cleaning in any way, and they will not allow the dangerous liquid to come into contact with the skin on your hands. Thanks to a pair of gloves you can mix solutions without fear and wash dishes with any type of cleaning detergent.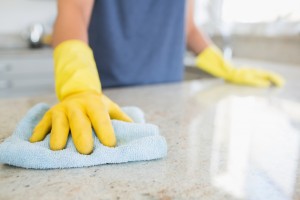 – Goggles – some of the cleaning products you use during your cleaning service can greatly irritate your eyes because of the fumes they release. In order to protect yourself from this danger, you should acquire a pair of specialized goggles to wear while cleaning. This will provide protection for your sight not only from the fumes of the chemicals, but also from dust and other debris that might get airborne during carpet cleaning for example. Goggles can usually be used multiple times, so definitely consider acquiring quality protection for your sight.
– Mask – cleaning solutions and more importantly the chemicals that are present inside them can sometimes lead to respiratory distress. To avoid breathing in the chemicals and fumes of the cleaning products you use during your cleaning service, you should always wear a mask. It will be your best line of defense when it comes to filtering the toxins of the cleaning products. This is especially the case with professional cleaners, who have to work with different cleaning solutions every single day. A mask will also prevent solid particles, such as dust and various others from entering your organism.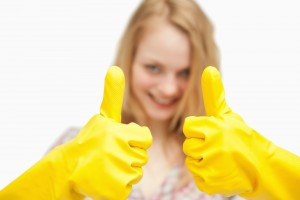 – Apron – aprons are very useful, especially those that provide pockets where you can put your extra cleaning equipment during your home cleaning. Not only will you stay clean if the job is a messy one, but also you will have everything you need with you and will not waste time.
A lot of these additions to your cleaning are not expensive at all and you can use most of them more than once. Definitely consider them to be safe during your cleaning.
More cleaning tips and advises find at: reliable carpet cleaning in Clapham