Your office work may not be as risky as, let' s say, building construction, but it still holds some not – so – obvious hazards. So what can basically happen when your job involves sitting on a chair and staring at a computer? Surprisingly, a lot. Even the administrative employees suffer severe injuries that could have been prevented with a little attention and workplace modifications. Here are a couple of ways to ensure the office safety and minimize the risks.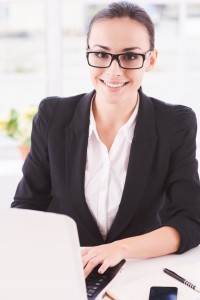 1. Mind Your Steps
Trips, slips and falls are some of the most common sources of office injuries. Did you know that employees are 2.5 times more likely to experience a fall in an administrative environment than anywhere else? The first step is to keep your office clutter – free. All free standing boxes and various items like stretching cords pilled on the floor constitute a serious danger. Cleaning the spills and splashes will also cut the chances of slippery floors. Always keep an eye on the floor while walking.
2. Protect Your Back When Lifting
Every now and then your office job may require an actual manual labour. It doesn't matter what you need to lift, there are some key points that will prevent a back trauma. Before directly approaching the box, first move it with your feet. This will help you determine the weight of the box. Instead of bending at the waist and lifting with your back, preserve your posture straight. Your upper body and your legs should be in a same line. Then get the box and push it with your legs.
3. Safe Climbing
When it comes to inadvertent injuries, hard to reach shelving and storage units are an all – time classics. You need to get something that is placed too high? Use only approved ladders and don't try to climb the shelving.
4. Use Technology Properly
Not taking precautions while using tools and machinery may not always result with an injury. In the rare cases when it happens, it can turn into a disaster. Use to tools in the right way and don't take shortcuts. Don't underestimate the risks, even if it's about a simple thing like a stapler.
5. Fire Safety
Cleaning chemicals and products should be stored in a well – ventilated room, away from heat or fire sources. Some cleaners are extremely inflammable. Be sure you know all the fire exists and you are fully prepared in case of emergency.
Although these are the most common examples of injury threats, there are many more safety issues that need to be discussed and that are specifically related to your work environment. Good planning and smart strategy are the best way to keep the level of risk at the office low.
You can consider assigning a safety committee or improving and establishing safety plan. Print the basic rules and place them on a spot where everyone can see them. Employees should be familiar with all the rules – from office cleaning and de – cluttering to fire safety tips.
For more helpful tips visit: industrial cleaners in Islington