Safety Precautions to Take When Working with Electronic Equipment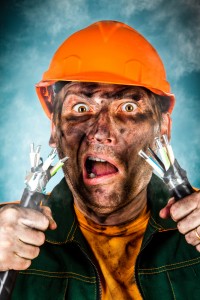 When working with or testing any electronic equipment, it's always important to be cautious. Whatever type of equipment you're handling, whether simple or complex, it's important to take the right safety precautions.  
Working with electricity comes with huge risks that should never be taken lightly. If you're a hobbyist who loves working with electronic components or an electronics professional at your workplace, safety should always come first.
 To avoid personal injury, possible damage to equipment or danger of fire, all work on electronic equipment should be conducted following these safety procedures.
 General Safety
 Before working on any electronics, consider following these basic safety precautions to help reduce any hazards.
•           Remove any electronic equipment you're testing or working on from the power source.
•           Never assume the power circuit is off. Test and test again with a voltmeter to confirm.
•           Remove fuses and replace them only after the power to the circuit is disconnected.
•           Don't connect power to a circuit until you're done working on it and rechecked the work.
•           Always ensure that all electronics equipment is properly grounded
 •           If it's damaged, replace it. For instance, replace cables instead of repairing with insulating tape.
 •           Always use the right electronics repair and maintenance tools.
 •           Always return covers after removing them to reduce the risk of electric shock. 
•           Make sure your circuit is not overloaded.
 •           Always have safety equipment like a fire extinguisher, a basic first aid kit and a mobile phone nearby.
 Personal Safety
 It's important to ensure that you're safe when working on electronic circuits. Here are some personal safety precautions to keep in mind: 
•           Always keep your work area dry.  
•           Always work in a well-ventilated area. 
•           Don't wear flapping or loose clothing when working. 
•           Don't work with metallic jewelry on your hands like watches, rings and bracelets.  
•           Don't use bare hands to remove hot parts. 
•           Always wear non-conductive shoes. 
•           Always wear insulator gloves in your hands when carrying out repairs. 
•           When removing high-voltage charges on capacitors, always use a shorting stick. 
•           Don't hold the test prods when measuring voltage over 300V. 
•           Always remove power to a circuit before connecting alligator clips. 
•           Always wear safety goggles.  
•           Be careful when handling large capacitors as they can still hold high voltage even after you've disconnected the circuit from power.
 High Voltage Safety
 One mistake that electronics experts make when doing repairs or maintenance work is assuming routine safety procedures after getting all too familiar with their work. It's important to know that most electronic equipment use high-voltage that is dangerous and can be fatal. Always follow these safety precautions when working on or near high-voltage circuits.
 •           Don't work on electronic equipment or make repairs with high voltage on. 
•           Don't take chances doing what you're not sure about. 
•           Consider using an isolation transformer when working on AC powered electronic circuits or equipment. 
•           Never tamper with interlocks. 
•           Don't ground yourself: Make it a practice to use only one hand when connecting equipment to an electronic circuit.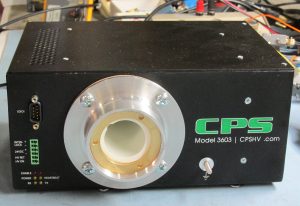 Fire Safety Precautions 
When working with electronic equipment, there is often a risk of fire caused by a short circuit or other reason. Follow these precautionary steps: 
•           Avoid anything that would cause a fire around your working area like paper, cloth or other combustible materials. 
•           Look out for damaged wire insulation, overheating of electronic equipment, damaged circuit boards and corrosive components like batteries.  
•           If there is a burning smell on your electronic equipment, disconnect the power source. 
•           If there is a fire, use a nonconducting dry powder or CO2 fire extinguisher.  
•           Always check your circuit to be sure that everything is okay after repairs or maintenance before connecting power.  
Electric Shock
 One of the major hazards when working with electronic equipment is electric shock. To avoid this, you should take a few safety precautions, including: 
•           Always read safety procedures that come with every electronic equipment you're about to test or work on.  
•           Recheck all wires for bad connections
 •           Always make sure that all parts of electronic equipment are well-mounted to prevent accidents.  
•           Keep electronic equipment away from water and other liquids 
•           Always check for signs of wear, defects and fraying on electronic equipment cables, cords and connectors.  
•           Use special safety rubber gloves and shoes. 
Testing Equipment 
With the increasing use of electronics in homes and workplaces, safety is becoming more and more important to consumers and service experts. If you're an electronics expert offering repair and maintenance services, it's important to invest in the right new or used testing equipment for your work—that ensures that you're able to carry out your job safely.
Author Bio:
Arnold Sharpe is a freelance writer and an electronics expert working with the leading electronic testing equipment store in Los Angeles, CA. He reviews the latest home and office electronic equipment in the market.
Image 1: https://upload.wikimedia.org/wikipedia/commons/f/f8/Soldering_a_0805.jpg
Image 2: https://upload.wikimedia.org/wikipedia/commons/9/94/HighVoltagePowerSupply.jpg