How to Move Heavy Construction Equipment Safely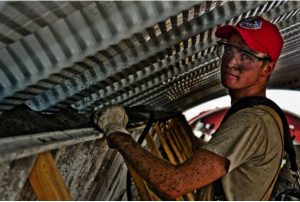 Moving heavy construction equipment is no easy task, that too safe and sound! Each year, quite a many workers end up endangering their lives just because of incorrectly handling heavy equipment and eventually succumb to it.
When it comes to moving heavy industrial machinery, it is imperative that all the safety measures are taken into full consideration to avoid any mishap and that no worker's life gets jeopardized in any way. In fact, safety should and must be the first and foremost priority, and there should be a proper guideline issued to every worker before the work begins.
Hence, we have vowed to put forward in this post, at least the basics, to ensure worker's safety.
One may have the know-how of a specific thing, but it is the professional guideline which provides the full information and guides regarding the dynamics. Expert guidance is often brushed off and only taken into consideration when a calamity strikes which should not be the case. In fact, it should be the very first preference before beginning with the task of moving to avoid any disaster or mishap as mentioned earlier.
Mock Training Sessions:
Training is the fulcrum to succeed or excel in any field.  Similarly, investing time as well as capital in training is pivotal to ensure the safety of workers. It is highly essential to be acquainted with the skill set and knowledge associated with the moving of heavy construction equipment, and that could only come through training under the supervision of experts. In addition to this, it is essential to know about the machine specifications (weight, attachments, etc.) beforehand so that moving does not seem something as an unachievable task, which is, by all means, natural.
Appropriate Clothing:
Just like there is prescribed attire for every social gathering, the task of moving heavy construction equipment also requires a proper dress code. While the former is to maintain the sanctity of the event, the latter is to ensure safety.
For example, make sure to avoid loose shirts or baggy pants as they can result in serious accidents, say perhaps by being caught in machines or coming in the way of others and resulting in a fall or trip. Other than this, strictly avoid wearing any type of jewelry.
Also, it is often reported that the majority of the accidents occur due to the negligence of workers – more importantly, the failure to wear proper clothing. It should be noted that while doing such a crucial task, it is rudimentary to have a uniform to wear. The dress should be High-visibility safety apparel (HVSA), and the footwear should be steel-toed boots.
Communication and Blind Spots:
Effective communication is an ultimate key to success in nearly every aspect of life as well as work. Two-Way radio or walkie-talkie can come handy when it comes to having constant communication.
It is with the help of continuous exchange of information only that one can closely monitor the blind spots and minimize the risks and hazards associated with this daunting work of moving heavy construction equipment.
In addition to this, it is crucial to forming a nexus with the spotter so that the potential threats could be detected in time should there be anyone between or behind the blind spot.
Do not ever have any assumptions that the people around the workspace know your next move. It is part of your task to formally put out instructions that no one is to come within the boundaries of the moving process.
Do Not Rush:
It is entirely understandable how stressful meeting deadlines can be, and in the pursuit of these deadlines, one often ends up working haphazardly and unintentionally inviting danger. For example, moving equipment in haste is never a smart idea.
An expert is not someone who carries the task in lesser time, but who does it smartly within the allotted time frame while ensuring the safety of everyone involved.
Remain focused and do not let the stress overpower you. It is advised to take the time and devise strategies beforehand as to how the deadlines must be met with minimal risks. A careful pre-planning in combination with professional advice would bring up fewer problems during the process.
Know Your Machines:
Before using any machinery as an aid in moving the equipment, learn its usage well enough to avoid any catastrophe. Adequate information about the machine is of paramount importance. Make it a point to ensure that it is serviced and no old or faulty components are being used.
It is recommended that the equipment should be turned off when refueling or repairing. Moreover, keep it under strict notice that both equipment and attachments are regularly inspected to keep track of the fact that it is and shall continue to be safe to use. Most importantly, do not shy away from taking the expert advice in case there is any confusion as to how to use a specific machine or any query regarding machine safety. Keeping a staunch check on little things can lead to the safe completion of the task.
Hire Professional Movers:
Moving heavy industrial equipment is not and can never be everyone's cup of tea. If you think you cannot tackle and might end up creating a mess, we strongly advise you to seek professional help. Being wise, after all, is the best option. Putting oneself in uncomfortable shoes is the most absurd thing to indulge in.
It is a general perception that professional movers only caters to the carrying and lifting of the machines which is not true. From making an inventory list, packing, organizing to securely loading as well as unloading later is what they do and that too with sheer expertise. A reliable commercial mover can also help you move office furniture including desks, cabinets and cubicles.
Right from the start till the end of the day, the professional movers renders an immaculate service which obviously won't be possible when dealing it all on own. They see things which an amateur like you might miss and ensure that not even a single critical aspect gets overlooked during relocation.  Not to mention the added peace and satisfaction which would drive in, seeing everything taken care of exceptionally well!