In yesterday's segment on this subject, we described several different types of confined spaces, as well as the numerous hazards associated with them.  Today, we will include a checklist of recommendations from OSHA for safe entry.  Government statistics show that around sixty percent of the fatalities associated with confined spaces accidents are of well-meaning, but untrained, would-be rescuers who lost their own lives in the process of trying to save someone else.  Here is an actual accident that resulted in death because of a lack of hazard awareness and unplanned rescue attempts:
A self-employed plumbing contractor entered an underground water line vault to inspect a backflow device.  The contractor collapsed shortly after entering the vault.  A supervisor noticed the man down, and entered the vault in a rescue attempt.  Both men had entered an untested oxygen-deficient atmosphere, and died as a result.
If proper guidelines had been followed, these fatalities and other similar ones could have been prevented.  The two sample checklists below show the importance of attention to detail that must be given before anyone enters a confined space and during work being performed.  Standby attendants must be qualified and trained in proper rescue techniques.
Here is one sample checklist, (Appendix D-2) to Standard 29 CFR 1910.146: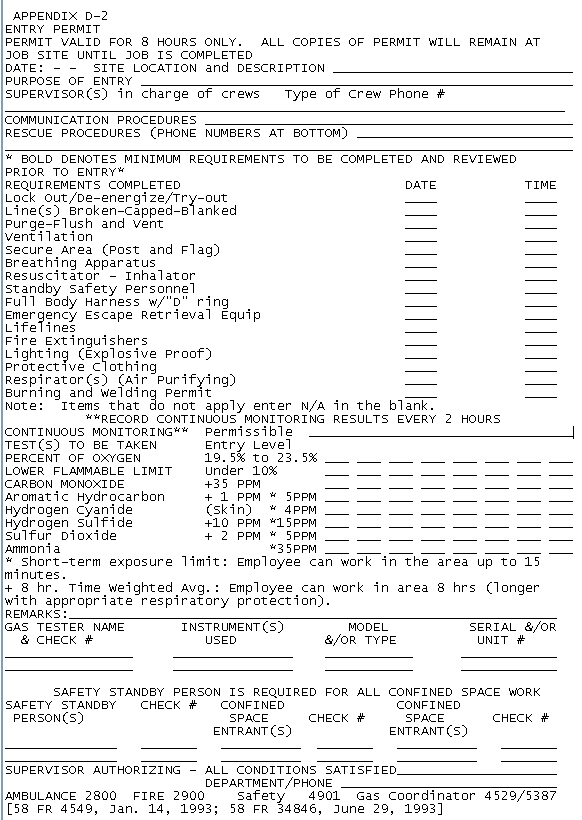 I hope that by sharing this detailed information we will all realize how important it is to be aware of the risks that people who work in these type of situations face and how they must comply with the safety rules and regulations; that those who would help them in times of emergencies would be as prepared to enter these places as the ones already inside.  This information could possibly save your life, or the life of a co-worker.  Rescue agencies (fire departments, police, etc.) are trained to enter confined spaces with the right equipment.  One thing to remember: an unplanned rescue could possibly be your last one.