Your mom is the best cook in the world. You could die for her bacon and eggs breakfast and chocolate cake for dessert! Even your friends come home for dinner sometimes because they simply love her cooking, and let's face it, she loves to feed people too. Even though you think you're a bit overweight and could do with some exercise, she thinks you look skinny and could do with some more food in your tummy! But all this aside, she's a bit of a klutz and that scares you a little. She's had some minor falls here and there—they didn't hurt her too much but she's still shook.
After some minor fractures, you realized that your house could do with some fixing. A little bit of adjustments could make your house safer for her. After all, at her age, you don't want to be messing with physics! Because you never know when those frail bones of hers might fail her. You'd rather be prepared for the worst because klutziness might become her worst enemy! It's not that difficult or expensive to make a home safer for seniors. Let me show you the ropes. Here are some things you could do:
1.       Make your house accident proof
Since older bones can be brittle, it's important that the house does not have jutting corners or slippery surfaces which may cause untoward injury. You won't realize but changing small things in your house may prevent your parents (or elderly people in general, or even kids for that matter) from being prone to small accidents. You need to be careful about small things like making sure that all electrical wires are placed along walls and no one can trip over them. The stairways also need to be in a good condition because a tumble down those steps may cause some serious hurt and you don't want that, do you? It's important for you to keep the smallest things in mind while you change things around in the house to make it safer. You should make sure that there is plenty of room to walk and there is no clutter (such as small pieces of furniture or your dog Max's food bowl) to trip over. Clean up spills as soon as they happen!
2.       Lighting is really important
Everyone knows that as you grow old, your eye sight gets weaker. So, it becomes really important for the house to be well lit for the seniors. Be it the kitchen, the bedroom or the bathroom. The lighting is absolutely necessary. Nowadays you have the option of lighting with something called proximity sensors. This simply means that when you walk into a room, the lights will automatically come on. The elderly people in your family will love this feature and it will come in handy especially during the night. It's also quite energy efficient so it's good for your pocket too! Good lighting on stairways is also really important.
Source: http://www.viahouse.com/2010/08/modern-concrete-house-inspiration-space-saving-house-interior/decorative-lighting-concrete-house-designs/ 
3.       Handrails are the way to go
Hand rails next to the stairs and the tub are an easy option. They should be securely attached to the wall and will come in handy (see what I did there?) when you want to prevent falls. And as I said earlier, it's important to protect those brittle bones!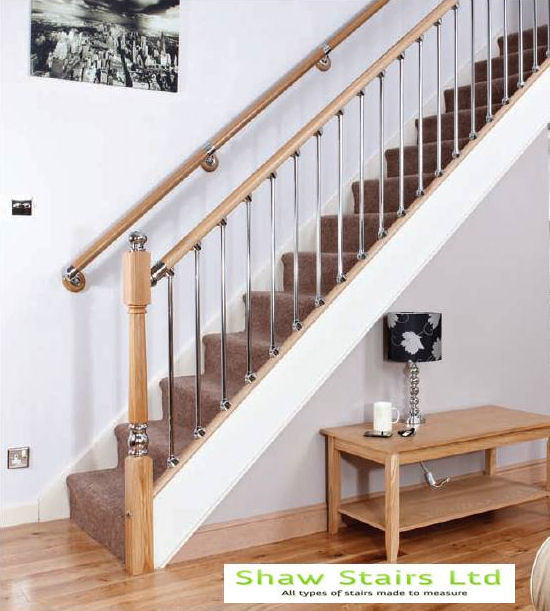 Source: http://www.shawstairs.com/images/Wall%20Handrails1.jpg
4.       It's also about security
You must have come across so many news stories where the elderly were targets of thefts and violence. Keeping that in mind, security from burglars and your amateur Jack the ripper becomes an important aspect of making the home safe for your folks. Make sure that your entry door is (almost) bulletproof. I recently replaced my door with this one from Champion Window– comes with a lifetime warranty! Porches and balconies should also be protected with fences or gates that cannot be climbed over. It's important to secure the outdoor area as much as the indoors. 
These are some steps that you can take if you're looking to make your home safe for seniors. It's all about the little things that may cause injury and replacing them is easy and quite inexpensive. Take a good look around your house because these things can be extremely subjective. Good luck! Your folks are going to be quite happy with your efforts. 
"All Rights Reserved. Michael Joseph is the original Author and Blog4safety.com is the authorized publisher of this content. Unauthorized republishing of this content will result into violation of Copyright laws. Doing the same may lead to initiation of legal proceedings by the Author and/or Publisher.
However, you are allowed to like, tweet, share or promote the article link in your network without prior permission."