Before you begin working on any DIY projects or plumbing repairs, you would do well to review some of the simple basics concerning safety. By following certain methods you will spare yourself injury and failure as well as being able to complete your projects on time. The following safety tips should be followed no matter what type of project you're after: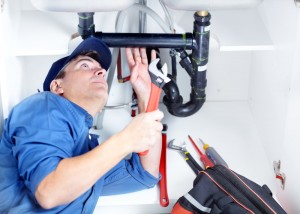 • Stay informed
You need to check the local building and plumbing codes before you start working on your project. Knowing what you can do to make things work that way will keep things professional and safe when you need to be careful.
• Eye protection
Work only with safety glasses if you need to do any plumbing work done, especially if you suspect you may have anything that could potentially endanger your eyes. Any work that involves using a drill, snaking a drain, hammering, working under a sink or using a reciprocating saw will pose a danger and potential hazard for the eyes. Sometimes small objects, droplets of sewer water and so on may fly into your eyes if you lack proper protection, so make sure that never happens.
• Hand protection
You would do well to focus on wearing proper protection for your hands at all times when you work. Hands will often come into contact with different chemicals, sewer water and more when you work on plumbing. If your hands have any scratches you may risk infection, not to mention handling things that way is simply unsanitary. Whenever you use a drain machine of any sort, you would do well to use leather or latex gloves to protect yourself from the germs of your drain lines. Good drain gloves will not only protect your hands, but it will also become a good habit to handle tools with them for added safety.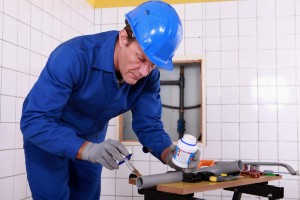 • Lung protection
You will need to work with a face mask if you want to protect your lungs. Sanding, sawing and more are sometimes needed when you work on some plumbing projects, not to mention the unpleasant smell of sewer gases that would be filtered through a mask so you won't have to inhale it.
• Being careful
You would do well to be extra careful whenever you're handling any tools, as you will need to follow the manufacturer's suggestions if you want to succeed. Many people are often injured when they don't keep both hands on the power tools they use, not staying vigilant as they work and so forth. Don't be one of them and keep your eyes open and your hands steady.
• Get some help
Having someone to give you a hand when you need it will make completing your tasks far easier to handle. Running a drain machine for example means you will need to have two hands on the cable, as well as someone else unplugging the machine when you're done, not to mention other tasks that need more than a single pair of hands. This will be very useful whenever you deal with plumbing emergencies, as you never know what you may need.
Read more helpful practical tips go at: http://www.plumbingservicesplumbers.co.uk/bayswater-plumbers-W2/local-plumbers-bayswater.html