Construction Safety 101: Workwear, Safety Gear & Equipment
Keeping construction workers safe is a primary job among managers and foremen, with accomplishing the work to specifics and being on time being second. To support this main concern on construction sites, there are different pieces of safety vests and equipment that every worker should wear. These include items like safety vests, reflective T-shirts, and hard hats. Let's walk through construction safety 101 while keeping your team sharp and safe on the construction site with these safety items.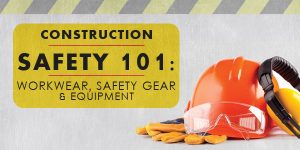 Hard Hats
Protect the head in safety and style with an OSHA approved hard hat.  Hard hats should provide not just maximum protection from falling debris, but they should also deliver comfort factor for its wearer. For instance, if you need a high-performing hard hat with a Super-bowl style design, 2017 Super Bowl hard hats are approved for constructions site. These NFL hard hats are designed with comfortable and adjustable 4-point One-Touch Suspension for maximum protection and comfort.
Back Support Gears
Back injuries are among the most pressing health problems in construction sites by far. Hence, workers should promote maximum construction safety 101 by using back support gears to stay sharp and safe on the site.  The Allegro All Fit Back Support items are made in a universal size, so they fit most workers. Protect your back with these high-performance belts that deliver full back coverage, with neoprene pads for comfortable wear. For workers' convenience, these back support gears come inside of a customized reusable zipper storage bag.
High Visibility Vests
Most construction workers require maximum flame resistance and maximum visibility at work. The Arc Flame Resistant Lime Class 2 Sleeveless Vest – Silver Stripe is preferred by many workers due to its wide range of applications. These High-Visibility vests come with silver stripes for excellent visibility as well as flame resistance. There are available in different sizes, so every worker will surely find the perfect size for him to work smartly and safely at the construction site.  They are also soft and flexible for maximum convenience.
Fall Protection
One of the most serious concerns among construction workers is falling. It is every employer's responsibility to protect their employees from falls.  The Elk River Freedom Series Aerial Lift Kit is an OSHA-approved item that contains several fall protection products. If you work with platform lifts, buck trucks or scissor lifts, this item is a great product for you. They come with a unique D-ring harness for comfort and security while working high above the ground.
Safety Respirators
Protect your workers from gases, vapors and particles with high-performing reusable respirators. They
Provide protection against particles, gases and vapors with the 3M full line of reusable respirators. The 3M 5000 Half Face Respirator Kits are made to fit bigger head sizes. These safety respirators are very easy to set up and they can be used for wide range of applications.
Aside from these safety items, construction workers are also required to wear sturdy work shoes, long work pants, safety glasses, chemical splash goggles, face shields, hearing protection and protective gloves. At all times, practice construction safety 101 to keep your team safe and sharp at work.
Author Bio (Northbay)
Northbay is known for its high quality HVAC products and services that every client can depend on. They are proud to sell and install the finest air conditioning and heating products and carry out quality services for repair and maintenance. They can help you with all your HVAC needs, regardless of your system's makes and models. They pride themselves for their unmatched customer service. http://www.northbayheatingandair.com/