How To Maintain A NIOSH/OSHA Safe Workplace?
One of the primary responsibilities of every business or employer is to fully implement an effective safety and health program in the workplace. A properly managed workplace safety program shows commitment to the safety of workers by the management. This, in turn, creates a more productive workplace that maintains the highest standards for safety and health.
As an employer, you're responsible for ensuring that your business is in full compliance with the latest safety and health regulations set out by the law. The Occupational Safety and Health Association (OSHA) and the National Institute of Occupational Safety and Health (NIOSH) oversee the implementation and promotion of occupational health and safety programs that help prevent injuries, illnesses, and deaths in the workplace.
How do you maintain a NIOSH/OSHA safe workplace?
Identify Hazards in Your Workplace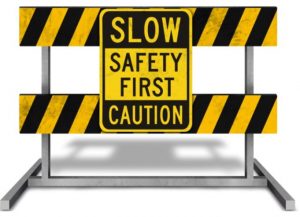 You can do this by evaluating all occupational roles in your business, the work involved, and the tools and equipment used. For instance, hazards may include technicians working with heavy machinery, a warehouse worker stacking heavy boxes, or a janitor working with cleaning chemicals.
With a good understanding of the various hazards and risks that your workers and employees are exposed to, you can now take steps to minimize or eliminate them to ensure their health and safety.
Develop a Safety Plan and Do Drills
Once you have identified workplace hazards, you need to develop a safety plan. Your plan must comply with the latest NIOSH/OSHA standards, rules, and regulations. Ensure that all your employees understand what needs to be done should there be a health or safety crisis in the workplace. A written plan of action should be formulated and included in your business policies and operational procedures.
Regular vetting of your safety plan must be done with the involvement of managers, supervisors, and employees. It's not enough to simply have a safety plan in place. To ensure it can be implemented, carry out drills at least once or twice a year so as to practice on what to do and where to go in case of a safety hazard or an emergency.
Inspect Your Workplace and Review Safety Procedures
Regularly check your workplace tools and equipment to ensure that they are in good condition and safe to use. Are your employees properly trained and updated on how to handle equipment safely? Make sure that you also review all workplace operational and safety procedures. If you have invested in new safety equipment such as Moldex-Metric hearing protection or respiratory masks, are your workers aware of the updated safety procedures?
Being in the know of how your entire workplace operates and what measures are in place to ensure employee safety is critical.
Train Your Workers and Teach Awareness
Investing in proper health and safety training is necessary for all employees. Train them on safe working procedures and teach awareness. Training is best done on an on-going basis and should be offered in a simple, practical and easy-to-understand way.
Provide written instructions and other resources like online training and conduct regular supervisions to ensure employees are performing their jobs as expected and safely.
Communicate Safety Procedures Clearly
Communicating the safety procedures required in your workplace clearly is important. Make use of safety posters, data sheets, color codes, signs or labels to communicate to workers and warn them of potential hazards. Established operating procedures should also be communicated in the same way to remind employees of health and safety requirements.
Talk to Leaders and Employees
Maintaining a safe workplace is a collective effort that involves everyone from business owners to managers and employees. Meet your staff regularly to discuss health and safety issues. Encourage sharing of thoughts and ideas and how to improve workplace safety. You may even want to provide first aid training for all employees so that they can better handle emergencies.
Report, Record, and Investigate Incidents
It's important to report all work-related fatalities to your nearest regulatory bodies such as OSHA or NIOSH. You should also keep all records of workplace-related injuries and illnesses, incident investigations, inspections, and health and safety training activities. Conducting investigations in any type of incident, however small, can help you determine why it happened so you can take preventative measures.
Adopt a Comprehensive Injury and Illness Prevention Program
OSHA encourages all employers to adopt programs that play a critical role in reducing the number and severity of workplace-related injuries, illnesses and deaths. Check with your state to clarify if there are specific requirements or guidelines for workplace injury and illness prevention programs for your small, medium or large business.
With the right prevention program in place, your business will see reduced cases of injuries, illnesses, fatalities and even compensation claims. It's important to make safety a key part of your business so as to maintain a NIOSH/OSHA safe workplace.
The Bottom Line
With the recently updated OSHA guidelines for safety and health programs, employers in a wide variety of business settings and industries are adopting and implementing the recommended practices. These practices incorporate a proactive approach that helps you manage workplace safety and health, ensuring a safer and more productive working environment for everyone.
Author Bio:
Carolyn Clarke is a lead safety consultant and occupational health and safety expert who writes for a number of authority health and safety websites and blogs. She provides professional guidance and training around the use of personal protective equipment in specialist business settings. She also works with clients to create safe working environments for employees and workers and is a certified Occupational Safety and Health Technician.
Image 1: https://www.fireandsafetyaustralia.com.au/wp-content/uploads/2014/02/Permit-Issuer-Training.jpg
Image 2: https://upload.wikimedia.org/wikipedia/commons/5/54/Road_Block_Driving_Safety.jpg