ROAD SAFETY AND THE EFFECTS OF VMS AND DRIVER FEEDBACK SIGNS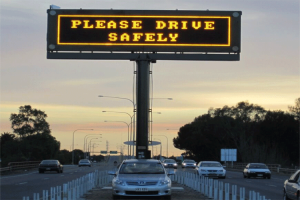 Ever since the coming of motor vehicles, transportation has taken a turn to more accidents and gruesome deaths by accidents over the past few years. Two wheelers and four wheelers along with HLVs have been experiencing rash driving due to the lack of road rules and safety measures. World over, accident rates have shown that measures need to be taken to provide safety or at least warn the drivers of possible dangers and remind them to stick to the traffic rules. VMS, Variable Message Signs have been introduced to update the drivers of multiple road rules and warnings that can be read with ease while driving.
What Are Variable Message Signs
Dynamic or Variable Message Signs refer to electronic traffic message signs used on the roadways to keep the travelers informed about the route or about any warnings in their journey. These could be to inform the passengers as well as the drivers about any traffic congestions, roadwork zone diversions, accidents ahead, speed limits or speed breakers. But in Urban areas, the VMS is covered only for parking guidance along with information systems that update the drivers about parking spaces and other instructions.
These message signs can be easily programmed and controlled wirelessly via a cellphone or wireless network. Some of the message types that VMS include are:
VMS can be used to display promotional messages about any services that the road authority might be providing such as carpooling.
It could warn the passengers about any crashes. It could also specify if it was a rollover or a spin out crash.
Inform about any road-works in process
Updating traffic congestions and other situations.
Road deviations and exit ramp closures.
Any fire emergency or vehicle on fire.
Weather warnings and AMBER, SILVER and BLUE alerts
Travel time limits for HLVs into city and city load limits
Speed limits within and outside city
Car parking bay availability
What Are Driver Feedback Signs
These signs are placed only to inform and keep the driver alert about the road safety rules in and around the city. They include:
Speed awareness for residential communities
Silence and speed awareness in school zones and educational areas.
Warning for jaywalking and pedestrian crossing in hospitals, etc.
These signs have proven highly effective over time in aiding traffic slowing. It also allows planned planning of traffic enforcements with access to timely data. It allows a pre-programmed automatic generation of reports giving engineers an uncomplicated view of speed data and comparative analysis. The benefits of having Driver Feedback Signs are:
High contrasting resolution LED design board for both day and night visibility
Additional features of emoticons in addition to speed limit display
Reasonable pricing
Easy statistical data collection
Easy to install and function
Easy maintenance and tough resistance to weathering.
The application and use of these sign boards have vastly improved driver-traffic communication and given the community more confidence and lesser accidents. With continued use of these signs we can assure 100% safety to drivers and pedestrians.