Top Health and Safety FAILS
Author: Beth Meakin
So, it seems like some of us don't take Health and Safety as seriously as others. There are some workers, whether they are in the construction industry or an office role, who completely ignore the rules and regulations put in place for their safety. According to the OSHA, around 4,850 people are killed on the job each year in the US, which works out more than 93 workers a week! A lot of these could have been avoided with appropriate health and safety training and compliance.
Ladders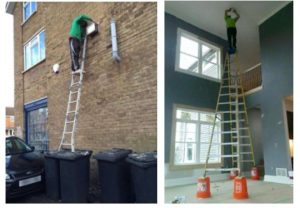 Ladders should be safe and the correct height for the task in hand. We recommended you also have another person hold the ladder steady – don't improvise like these guys!
Confined Space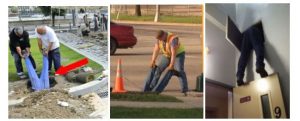 When entering confined spaces, it's important that workers have adequate training and the correct equipment is used. Remember this next time you find yourself lifting your buddy out a manhole by his pants!
Protective Wear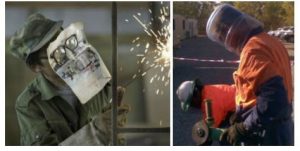 Protective wear or personal protective equipment (PPE) is crucial for anyone working in a hazardous environment. Using (highly flammable) paper as a mask, or an air-restricting plastic water bottle for head protection is definitely not recommended.
 Flammables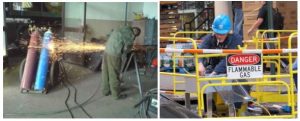 Flammable liquids and materials should be kept away from all sources of ignition. It's common sense really, but these guys are clearly lacking in that area! What are they thinking?
Electricity

Whether it's computer leads in an office or wiring on a construction site, electrics are present in nearly every workplace. The risk of fatalities is significantly increased with the presence of electricity, so working safely should be a main priority. Water + electricity = disaster.
 Vehicle Safety

Unsafe loads on vehicles cause thousands of accidents and damage to goods every year, costing people and businesses millions. Secure all loads safely and appropriately within your vehicle, and if you ever think about carrying flammable liquid on the back on your scooter.