4 Most Important Tips for Fire Safety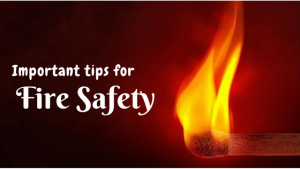 Whenever a fire breaks out at home, it is best to leave the place as early as possible. However, there are some things to remember and more importantly to follow, while escaping the catastrophe. This post will explain, step-by-step, what to do in case of fire.
What should you do When Fire Breaks Out at Your Workplace/Home?
There are several things that can lead to a house fire. However, what matters the most is that how you can save yourself when you are stuck in such situation. How? Let's have a look.
Keep Your Cool
The most common, or we may say the natural reaction of anyone, who is stuck in a fire is getting panic. This is exactly what you have to avoid. DO NOT PANIC! This is because, when you go into the panic state, your brain stops working, and you don't know how to get out of the situation. So, the very first thing that you should do is KEEP YOUR COOL! This will allow you to think of ways of saving yourself. Some of these ways are:
Call 911 for help, and tell them your location.
Don't have access to the phone? Not a problem, you can yell for help.
Keep the smoke out by plugging clothes, or blankets to any vents or cracks.
Once you have a clear and calm head, you can think of the second point below.
Plan Your Escape Route
Now, you need to identify all the exits of your home, so that you can plan your escape route. See? This is why you need to keep your head cool to remember all the possible escape routes, such as a back door, front door, or emergency exit. Once you are ready with all the possible routes, decide which route you are going to follow. However, always have a backup route, so that if the decided route is blocked by fire, you can immediately jump to plan B (second route), without wasting much time.
Is there a specific technique to follow, while actually escaping the catastrophe? Yes, there is. This brings us to our next important point.
Get Down, and Crawl
When a fire breaks out, the smoke rises up to the ceiling. Thus, there is some breathable air near the floor surface. Besides this, the temperature goes on increasing towards the ceiling. This means that the temperature of the floor is lower than that towards the ceiling. So, it is strongly recommended that you get down on your knees, and crawl your way to escape. Another thing you need to remember while crawling is that keep your nose covered with a piece of towel or cloth. This will stop the smoke from entering your body, which can make you dizzy and pass out.
Are you stuck in an apartment, several floors up, and want to go down? In such cases, always remember the following point.
Strictly, No Elevator Please!
This is the most important point to remember. An elevator is not the option for coming down in case of fire. DON'T EVEN THINK ABOUT IT. It is an electrical device, which can fail during a fire, or worse can itself catch fire. So, there are two things that can happen, when you choose the elevator – either you'll get trapped, or if the elevator gives out, you'll enjoy your fall several floors down, along with it. Thus, it is strongly recommended to use the emergency staircases instead.
You need to bear all these points in your mind, which will help you save yourself as well as other, during a fire. In addition to the above-mentioned steps, there are various fire protection products that you can easily depend on. These include gloves, fire extinguishers, etc. It is important that you source these products from a reliable supplier like GND Consulting and Supply.