Guest Post
Not long ago, I received a very nice email from Emily Kreifels, who works for the law firm of Console Hallowell, in New Jersey.  She wrote: "My co-workers and I have started a blog that I think demonstrates the same principles of your blog. We also feel strongly about promoting accident prevention and overall safety. Our site covers a variety of injury-related topics that may occur not only at home and while driving, but also out in the real world. We also give tips on how to prevent these common accidents from occurring. We hope that by making this information readily available, we can help educate our community and increase safety so that injuries can be reduced and lives can be saved. Our new site can be found here. "  Emily sends this article written by Richard Console, Attorney at Law. 
Companies constantly have to recall their products when it is discovered that their product poses a threat to their consumers. There are few recalls more terrifying than a toy recall because children should be able to play without the threat of injury or death. In 2011, our country saw many toy recalls, but these toys were some of the biggest. The following toys were listed as having been recalled this year by the U.S. Consumer Product Safety Commission. The list is in no particular order.
Please remember that if you have any of these toys you should stop using them immediately and contact the distributor. Toy recalls, even those that were issued voluntarily should be taken seriously in order to best protect your children. All of the recall and contact information can be found on the CPSC website.
Build-A-Bear Swimwear Set with Inflatable Inner Tube: 19,720 units
On November 16 Build-A-Bear issued a voluntary recall of this product. They stated that the inner tube accessory that came in the set posed a strangulation hazard because it could be pulled over a small child's head. They received one report of an incident where a 3-year-old pulled the tube over their head and had difficulty getting it off. This product was sold at Build-a-Bear workshops nationwide from April 2011 through August 2011.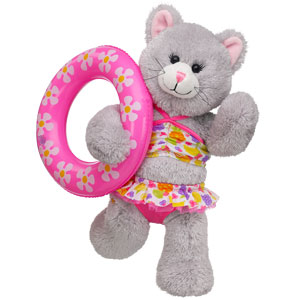 Kiddieland Disney Fairies Plastic Racing Trikes: 21,000 units
The recalls for this product were listed two separate times this year; on April 21 9,000 units were recalled, and on November 1 another 12,000 units were recalled. The fairies that protrude from the top of the handlebar were the cause of the recall since they were a laceration hazard should a child fall on them. The first recall noted that there had been three reports of children receiving lacerations to the face, and there was another report of a laceration to a 3-year-old's eye with the second recall. The trikes were sold at Target stores nationwide from July 2009 through December 2009.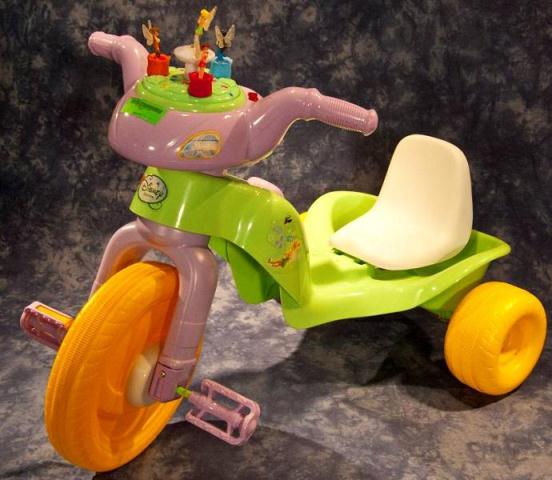 Trek 2012 FX and District Bicycles: 27,000 units
Trek issued a voluntary recall of these bikes on October 27. There were four reports of falls, one of which resulted in a broken tooth and lip lacerations. The hazard is that the bolt that secures the seat clamp to the seat post can break causing the rider to fall. The CPSC reported that the following models were recalled, model year 2012: Trek 7.2 FX, 7.3 FX, 7.4 FX, AND 7.5 FX; District, and 9th District bicycle models: WSD, Livestrong and Disc. The model name is found on the frame of the bicycle and the model year can be found near the pedals. These bikes were sold at specialty bicycle shops nationwide from May 2011 through September 2011.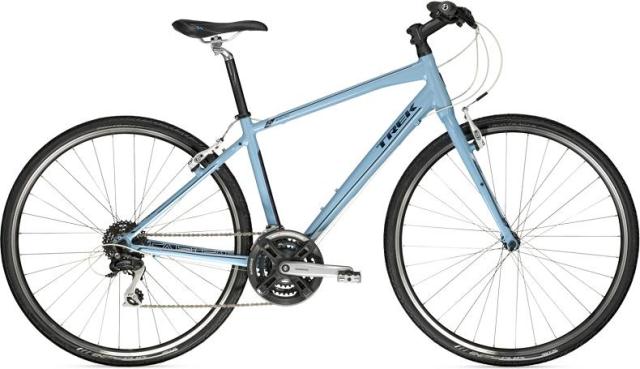 Chloe Doll
Pottery Barn Kids Chloe, Sophie, and Audrey Dolls: 81,000 units
The recall was issued on September 8 and it involved the three above-mentioned dolls that were sold at Potter Barn Kids stores nationwide as well as online and through their catalogue between July 2006 and April 2011. There were five reports filed of the dolls having looped hair that posed a strangulation threat. There was one report where a piece of the looped hair was found around the neck of a 21-month old child. The piece was removed without causing harm to the child. They reported that if you have any of these dolls you should cut the looped strands of hair and remove the headband from the Audrey doll.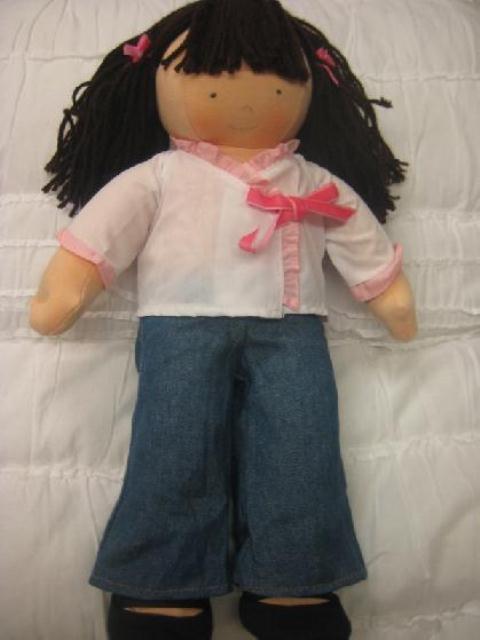 Radio Flyer Scoot 'n Zoom: 165,000 units
On August 16, Radio Flyer issued a voluntary recall of the Scoot 'n Zoom toy that was sold at Wal-Mart and other retailers, and online at Amazon.com and Target.com between August 2010 and August 2011. The toy posed a falling threat to children because it could tip over while riding. They received 10 incident reports, six of the reports included injuries. Three children lost or loosened their teeth as a result of falling from the toy and three had lacerations that required stitches. The recall was only for those marked with the model number 711, which can be found on the underside; the recall does not apply to models 711B.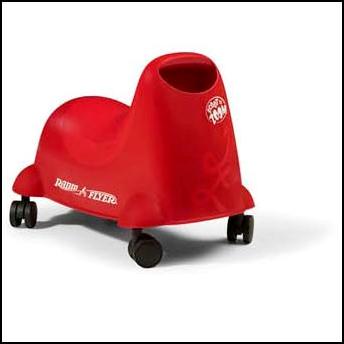 Battat Toy Keys with Remote: 1,080,000 units
The recall was issued on August 2. The toy was sold at retailers nationwide as well as online between April 2010 and May 2011 B. FunKeys; and it was also sold through Parent's Magazine from January 2006 through December 2009. The key ring and metal toy keys can break and pose a choking hazard to children. There were 17 reports of the keys breaking and 14 reports of the ring breaking, but no injuries have been reported.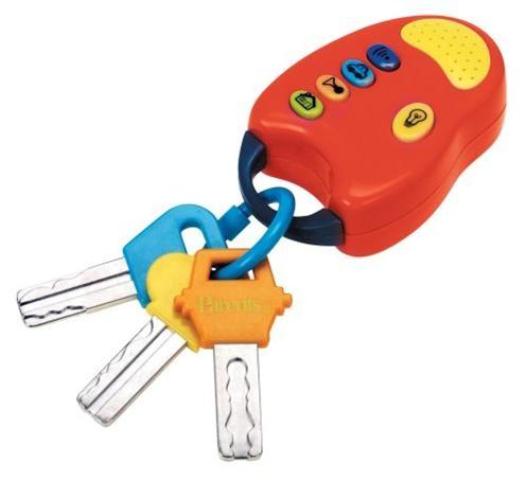 Fisher-Price Little People® Builders' Load 'n Go Wagon: 208,000 units
Fisher-Price issued the voluntary recall on July 28. The handle of the wagon could cause lacerations if a child falls on it. There were seven reports of injuries, which included five children who needed stitches or surgical glue to close the wound. The wagon was sold at mass merchandise retailers nationwide between June 2009 and July 2011. The company has a repair kit available to remedy the hazard.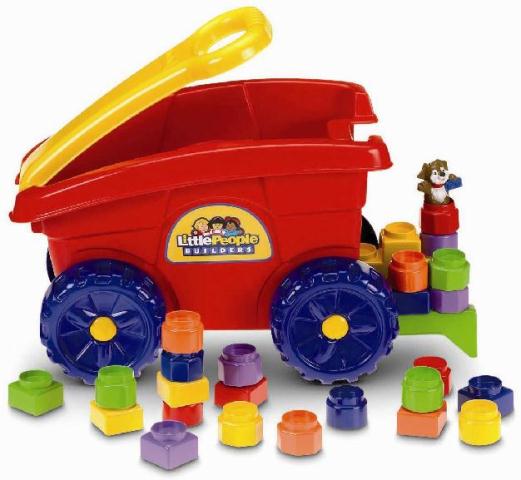 Adventure Playsets Wooden Swing Sets: 240,000 units
There was a recall issues on June 29 for the following models: the Tacoma / Tacoma II, Bellevue / Bellevue II, Durango / Durango II, Yukon, Sedona, Belmont, and Ventura / Ventura II. The retailers of these models include Academy Sports, Mills, Menards, Toys R Us, and Wal-Mart. The dates sold range from 2004 to 2007. The issue lies in the wood posts of the fort section of the set that can rot and weaken causing a fall hazard. They received more than 500 complaints.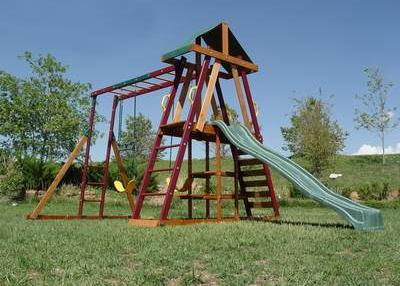 Excite USA Military Copters: 24,000 units
On June 10 a recall was issued do to the laceration hazard posed by the plastic blades that can detach during operation. Three incidents were reported with two involving lacerations. The helicopters were sold at Rite Aid stores nationwide from January to May 2011.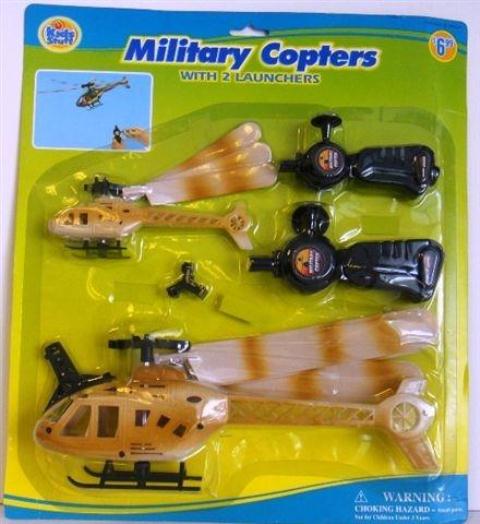 Kiddieland Lights and Sounds Children's Scooters: 16,000 units
The scooters were recalled voluntarily on April 21 due to a laceration hazard. Children could get their fingers caught in the hinge between the steering column and the platform. They received two reports of children getting their fingers caught and requiring stitches. The recall includes a Spiderman, Thomas & Friends, and pink girl's scooter. The scooters were sole at Toys R Us and JCPenny between January 2009 and February 2011.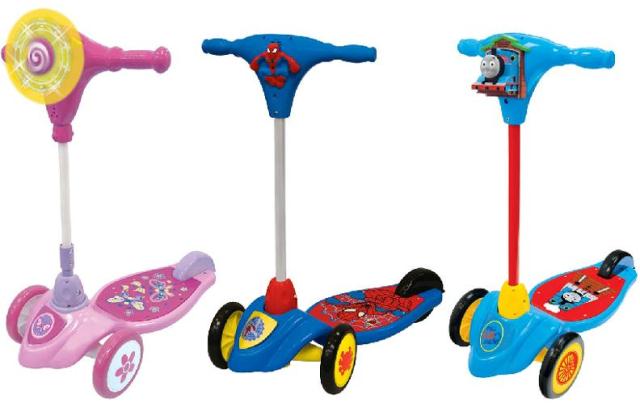 Once again, if you own any of the above mentioned products discontinue use immediately. Playtime should not be a time that ends in injury. If your child has been injured because of a hazardous or defective product, contact the New Jersey injury lawyers at Console & Hollawell to get the compensation you deserve.
Richard, we appreciate this very important information that could prevent another child from being injured.  You may read more on the website : http://www.consoleandhollawell.com/.