If you asked for those in a room to raise their hand if they are guilty of not always fastening their seat belts, I would have to comply!  Just because of living in a small town, it is certainly not an excuse for failing to wear my seat belt.  So help me, I promise I will click it every time I get behind the wheel, from now on!  Our three grandchildren were so well trained that they wouldn't allow anyone to start the motor until they were safely fastened in their seats.  Two of them are driving now, and the other is five.  It has been such a great experience to see that it became a habit of safe riding naturally, and we thank their parents for teaching them.
Click It or Ticket Campaign began Monday, May 21st, and will continue through June 3rd, coinciding with the Memorial Day holiday.  If you plan to travel this week-end, it is a good idea to fasten those seat belts, and observe speed limits if you want to get home without a high-dollar souvenir from your friendly Department of Public Safety troopers.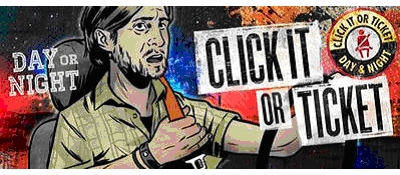 With larger volumes of traffic anticipated on our roads and highways,  we want every motorist to know the importance of buckling up while driving or riding in a motor vehicle.  The theme for this year's campaign is simple: "Always focus on your driving and be certain that everyone riding in the vehicle is buckled up every trip, every time."  It only takes two seconds to buckle a seat belt and this injury-reducing and life-saving task should be an automatic practice for everyone riding inside a motor vehicle.  And, as always, please let one of your passengers take care of the cell phone – don't let distracted driving cost your life or anyone else's.  Don't drink and drive or drive under the influence of drugs.  Let's keep our highways safe.
Have a safe Memorial Day, and don't forget to honor our fallen heroes of past and present wars.  It is the beginning of summer vacations that we all look forward to, however, we must always remember those who gave their lives for us.  One more thing to consider:  Thanksgiving is a day when we pause to give thanks for the things we have; Memorial Day is a day when we pause to give thanks to those who fought for what we have.
Have a safe and happy summer, and drive friendly!