Safety Products can make a great Christmas gift. If you are looking for a gift idea for the construction worker, factory worker, farmer, rancher, or even the home do it yourselfer, why not give the gift of safety? In the past, safety products were considered a nuisance and uncomfortable to wear; however, over the last few years there have been dramatic improvements. Why still wear something bland and uncomfortable? For a limited time, mention the coupon code CyberMonday and get 15% off everything in the store.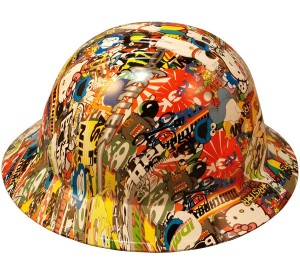 Sticker Bomb Hard Hat (pictured) located on this page of the site. Many other designs available..
http://www.tasco-safety.com/hydro-dipped-hard-hats/hdhh-754.html#hdhh-754
The Blog4Safety parent company is Texas America Safety Company which offers a variety of designer hard hats, comfortable Mechanix gloves, stylish safety glasses and much more. Take a look at our page of assorted Christmas Gift Idea's at http://www.tasco-safety.com/christmas/ or check out the full site at www.tasco-safety.com.
Might as well spice things up a bit and keep your friend or loved one safe, sound, and happy. Have a safe and happy holiday…