The Fall Guy
Did you know that falling is the most common cause of injury or death in the construction industry? Construction workers account for only 6% of the U.S. workforce, but they represent 20% of all job related deaths – (more than 1,200) in the private sector – more deaths than any other industry.
Ladders are the leading cause of falls. Scaffolding is a close second, and roof falls come in third on the list of most common construction worksite injuries.
Anyone working 6-feet or more above the ground needs to take special precautions. We've all heard this a thousand times before, but safety starts with you.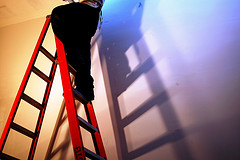 How to Implement a Fall Prevention Strategy
First of all, pay attention. Look around your job site and your own equipment. Planning ahead and being proactive about replacing worn equipment saves you time and money down the road.
Wherever possible, ladders should be secured to structures. Metal ladders should not be used in stormy or windy weather. Scaffolding should be safe stable and up-to-code. This is the single most violated code. Spread salt or ice melt on icy walkways and keep steps dry and free of debris. You can also install temporary tread strips to deter slipping and falling.
Roof falls can be avoided by installing guardrails and precursor equipment for harnesses. Safety nets at roof edges, beneath unprotected skylights, over pits and shafts, beneath ledges, and unprotected girders. It may take some prep work, but will save you and your business in the long run.
And take the time to be the one on your team that enforces the hard hat rule and makes sure that everyone's tool belts are fastened securely.
Why a Fall Prevention Strategy Makes Sense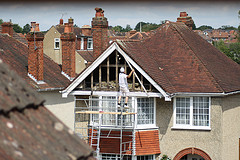 The average cost of a fatal fall is $1 Million while the average cost of a fall injury is $110,000. This is certainly enough to put smaller construction sites out of business. Cutting corners on harnesses and gear may seem cost effective – until someone gets hurt. After an accident, implementing a fall prevention program seems pretty budget worthy.
There is no reason to let anyone take the fall. Be the one that prevents the fall in the first place!