Are you wearing the right workwear?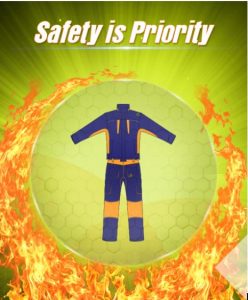 In the recent years, the need for employees' personal safety and protection in hazardous work environments have reached an all-time high. The safety rules and regulations have never been more detailed and comprehensive. It is of utmost importance for companies now to make sure that their employees are well protected and covered for any potential risks they may have to face on job. In jobs, where high-risk hazards such as fire breakout, high-voltage electric arc flash or any other form of inflammable substances are involved, it is imperative for the company to introduce personal protective clothing or equipment for their employees.
Fire retardant fabric used as employee uniform not only provides necessary protection for the workers but also gives rise to a sense of personal protection at work site. With proper training for personal safety, together the organization and employees can minimize the risk of any probable hazards. This is the reason that the use of FR clothing has become not only much more common but also a prerequisite by law in many developed as well as developing countries. This has also resulted in a consistent development of industry safety standards and continued growth of the FR clothing sector. FR or protective clothing protects the wearer in the following ways:
It resists burning and self-extinguishes flames
It does not melt onto wearer's skin
It provides protection from heat through thermal insulation
It does not break open safeguarding wearer's skin from flames
It minimizes the chance of burn injury thus increasing the likelihood of survival
It is extremely important to note that although FR clothing reduces the risk of burning, it does not eliminate it. It is however designed to keep the extent of damage down to under 50 percent. But accidents still happen and FR clothing does increase the survival rates that much more and even provides valuable escape time for the wearer.
In order to choose the right protective wear for the employees, there are three important questions for any organization to ask:
Primary Hazards
There are many different kinds of hazards workers may have to face at their workplace. But there are primarily four kinds of major hazards that require utmost protection. The choice for FR clothing will majorly depend on the kind of risk involved.
Flash Fire  Flash fires form as a result of concentrated fuels such as combustibles solids, liquids, gases or dust mixing up with enough oxygen causing an unexpected ignition. Flash fires are sudden and short in duration remaining for only a few seconds but they are a common hazard in fuel plants, molten metal and gas foundries, mining, oil and gas refineries, extraction services etc.
Electrical Arc Flash  An electrical arc flash is an explosive blast of flame that can result from electrical equipment failure, human error or interference with high-voltage current. Arc flash lasts for only a second but it can wreak havoc in its wake producing deafening sound, also causing molten metals and debris to fly at super high velocity and producing extreme radiant heat (35000F+).
Molten Metals  Specifically, in welding jobs, metals such as aluminum, magnesium, titanium and other alloys have to be heated at extremely high temperatures (between 520 to 3700F) to get them in a workable state. Even the teeniest amount of molten metal can end up severely damaging exposed skin or setting fire to regular clothing. This kind of hazard most commonly exists in industries such as steel mills, foundries, fabricators, and welding jobs.
Chemical Spills  Chemical spills are referred to as any harmful biological, radiological and/or physical substance or agent likely to pose risk to humans and the environment. Such spills can result in virtually any kind of reaction from burning to allergies to fatality.
Why is compliance for Correct Fire-retardant clothing important?
Compliance to safety procedures and regulations works on many levels for both companies and employees. Not only does it minimize the risk for injuries for workers but also save funds and bad publicity for companies. Many benefits make a solid case for FR clothing in the long run:
Provides safety and proper protection for employees
Emphasizes a culture of personal safety
Develops an environment of trust for workers
Minimizes costs associated with injuries, man-hours and accident claims
Evades legal issues and fines
Builds a goodwill for the company
Industry standards
As per the guidelines of local protective authorities, organizations are responsible for identifying and assessing the risk conditions their employees may be exposed to as well as employ the best safety procedures and practices available in order to counter these risks. Protective apparel is an important part of safety clauses in most developed countries. In the light of these guidelines too, the FR clothing has to be tested for flame resistance, heat resistance, thermal shrinkage as well as thermal protective performance (TTP) testing for each layer of protective fabric.
How to choose the right FR workwear?
As far as complete compliance for FR clothing is concerned, it is not a question of merely choosing a well-known supplier. The choice for the right kind of protective wear depends on many factors. The first and foremost thing would be to perform a hazard analysis of the facility. For instance, in the case of a risk pertaining to arc flash hazard, a Flash Hazard Analysis of the facility would be necessary to determine the level of protection required for the workers. However, a difficult and time-consuming job, it can be achieved in several ways:
A detailed evaluation of each electrical task can be performed by an inside electrical resource of the company. A software can also be used to perform the required analysis as long as essential data inputs are available.
Another approach is to check the electrical tasks against the tasks tables provided by local authorities. But in this case too, the resource doing the analysis has to be knowledgeable enough to determine what kind of tasks match the tables.
The third option is probably the most costly option is hiring an outside expert to do the analysis. But it is also the easiest and the most comprehensive way as well.
The next step is the categorization of potential hazards and classification of the appropriate FR clothing.
Identify hazard type  Determining what kind of hazard is involved – whether fire, arc flash or molten metals – will dictate the further choice for protective wear required in a particular situation – the material of FR clothing, hazard ratings, apparel type etc.
Review Standards for Identified Hazard  It is extremely important to review the safety standards applicable in your case as there may be new clauses or updates.
Determine the Level of Protection Required  The performance of FR clothing is quantified on the basis of level of protection they offer which is measured in calories (heat energy) applied per square centimeter of surface area. The use of garments with insufficient ratings will simply not serve the purpose. Similarly, ones with higher ratings than required, while may do the job, but they will be a cause of unnecessary discomfort for the employees and added costs for the company.
Research the Different Protective Wear available in the Market  There is a considerable variety of FR fabrics and finished garments available in the market. There are multiple factors that need to be taken into account for the right selection of FR clothing from material, cuts, colors and specifications to strength, comfort, durability, price and service support to compliance to proper arc ratings.
Evaluate the reputation of FR clothing suppliers  Where risky conditions are concerned, it is better to play safe and go for suppliers who have a proven record in the manufacturing of FR clothing and enjoy client trust. A detailed background information of suppliers can be obtained from public and private safety organizations. But much more important is a comprehensive wear trial for not only will this exercise paint a true picture for on-site performance but also gain employee feedback.
On-job Training  Once the appropriate FR apparel has been chosen and made available for employees, the next step is to train employees in safety practices as well as proper use and care of FR garments. This sort of training is significant for getting most out of the incurred costs on FR garments since they won't be of much use if not used and maintained with care.
Summary
So here is what we are trying to establish in this step by step guide. Let's summarize what the right protective clothing or FR wear should do for you:
It should live up to the appropriate safety regulations applicable in your particular case.
It should fulfill all the protective needs involved in your particular work hazard.
It should fit the individual workers comfortably.
And further the company needs to:
Train the workers in the proper use of protective clothing.
Train the supervisors as well in order to ensure they understand how to enforce the use of protective clothing by the workers.
Train employees in the careful use of protective clothing.
Ensure the protective clothing is adequately cleaned and maintained.
Post Credit to:   https://www.daletec.com/